Getting hold of the keys to your first rental property is hard enough, especially when you consider the effort required to raise the finance and then complete any renovations or necessary improvements. But then comes the next tricky bit, which some new landlords renting out a property might take for granted – finding a tenant willing to pay your rental valuation.
Find out how much rent you should charge for your property here: How much rent should you charge?
If there's one sound bit advice we can pass on, it's that when carrying out a rental valuation, ensure you have put yourself in the mind of a potential tenant.
Now, this doesn't just mean showing off your property size, views, garden, freshly painted magnolia walls and location. Instead, think about how your prospective tenant, the one who is going to pay off your buy to let mortgage, will find your property in the first place.
There's a lot of competition for good tenants, and you need to make sure they spot your advert. Many of these will join us online to scan for their dream rental properties.
And this is where the neat trick comes in.
Consider price brackets when carrying out a rental valuation online.
If you do search online, the first thing you'll do is type in your preferred location – let's say Ipswich – and then you'll almost certainly define the minimum and maximum rent you're willing to pay. In Ipswich, the great majority of people looking to rent a terraced house would probably put £500 a month minimum, and £700 a month maximum.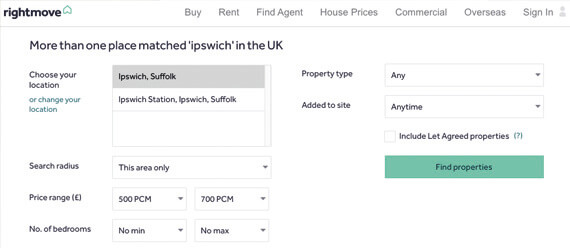 So, your starter for 10 is this: What's the worst rental price you can settle on for your terraced house in Ipswich?
If you said £705, you win a sticker. Why? Because for the sake of trying to make an extra fiver a month, you have now eliminated your property from the search results that will be seen by most of your target audience!
Not only that, but those typing £700 minimum a month, and £1,000 maximum are going to be looking for something a little more exotic than your humble terrace, which has somehow snuck into their search results, and so they'll ignore it, too.
Find out how much rent you should charge for your property here: How much rent should you charge?
£5 makes a big difference on your rental valuation.
It doesn't take long to work out what a false economy it is to try to make that extra monthly £5.
Let's say that because not as many people as you had hoped are seeing your property while searching online, that it stays empty for one month longer than planned.
That has now left you £705 out of pocket.
A quick computation on the back of your rental particulars will tell you that if you charged £700, it would take 141 months of losing that £5 a month to reach the same £705 figure.
That's nearly 12 years!
And by that time, you've probably paid off your mortgage and are well on your way to becoming private landlord of the year.
Get a professional rental valuation and best price guide from the experts!
Okay, so that's a bit of fun to highlight a very serious point.
Carrying out a rental valuation to determine the price for your property needs to account for more than just the obvious decor, condition and location.
Of course, you need to know the ballpark figure that similar property lettings make, just make sure you take into account things like price brackets.
A quick play for yourself online will help you identify the distinct price brackets you need to be working within.
Look where the majority of properties like your own are sitting, and you'll be able to make a good judgment call that balances the need to keep your property occupied (and the rent coming in) and making a few extra quid a month.
If you want to get the most rental income from your property and understand how you can improve your rental return, complete our letting valuation form and a member of our landlord team will be happy to help.