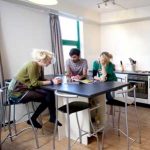 "Romney shot himself in the foot this week, then re-loaded, and shot the other foot" – Affan Chowdhry
Most universities were built before most of us were born and, just like Airports, it is fairly safe to say if you buy your home close to one of them there is the potential for it to be very noisy at times. I would not live close to a university because, while I love my student tenants, I would not want to be woken at 3am as they walk home from the student union bars. I cannot understand why people choose to live in areas where there is potential for issues like these to arise unless the issues don't bother them?
Article 4 Direction was the Governments way of appeasing voters who do not want to live close to students. The silly word "studentification" has crept into use in recent years. It is the word used to describe areas where former family homes become student Homes in Multi Occupation (HMO's).
As the student community grew owner occupiers began to resent the intrusion of students in their communities and put pressure on local authorities to control the increase in properties that were being converted into multi occupied student homes (HMO's). As the last Government were on their way out, on April 6th 2010, they put in place a change to planning regulations which meant that for any property that had established use as a single dwelling house (Planning Use Class C3) where the owner wanted to use it as a small HMO (Planning Use Class C4) planning consent would be needed.
The new Government quickly changed this, enabling local authorities to use this regulation if they felt that there was a need to do so, but only after consulting with property owners in the chosen area. They retained the split of residential property into two separate classes- Class C3 for dwelling houses and Class C4 for small HMO.
As a result from 1 October 2010 a change of use from a dwelling house (Class C3) to a HMO (Class C4) and from a HMO to a dwelling house was once again possible and planning permission was not required unless the local authority had put an Article 4 Direction in place in that area.
They did this by allowing authorities to withdraw the 'permitted development' rights which would otherwise apply by virtue of the Town and Country Planning (General Permitted Development) Order 1995 as amended (the 'GDPO'). An Article 4 Direction does not prevent the development to which it applies, but instead requires that planning permission is first obtained from the local planning authority for that development. In the case of conservation areas, this process allows for the consideration of the impact of the proposed development on the character and appearance of the conservation area.
The definition of different planning use classes are set out in the Town and Country Planning (Use Classes) Order 1987 (as amended).
Many landlords confuse change of use with physical changes to the building and where an Article 4 Direction is in place one does not need to make any physical changes to the building this is simply about how the building is occupied. If the property is occupied by 3-6 people, sharing facilities, who are unrelated it is class C4. Larger HMO's (7 tenants and more) must always have planning consent.
Some cautions
Some local authorities are asking for proof of up to 10 years of established use as an HMO in order to avoid an Article 4 Direction and the need for a planning application while others accept a Tenancy Agreement, that was in place prior to the Direction coming into force, as proof of established use. This could mean that an established HMO is refused permission when the landlord cannot prove established use.
Some local authorities are covering their whole area with an Article 4 Direction rather than targeting high density HMO areas – this is no longer about student HMOs.
If a property, that has established use as an HMO, changes use to a family home this will break the established use and will need planning consent to be used as an HMO again in future.
If you are considering buying a property, for conversion, check the local authority web site to see if there are any plans to put an Article 4 Direction in the area.
If lenders become aware that there is an Article 4 Direction in place in an area where you are planning to buy, for conversion to an HMO, they may refuse to lend on that property.
In my opinion many of the people who have pushed local authorities into introducing Article 4 Directions in their area have not considered the affect on the value of their homes. Where there is already a high proportion of student HMO's in an area families are less likely to want to buy their homes and when these properties come onto the market they are bought by landlords to convert to more student HMO's.
Landlords have driven up the cost of properties in these areas despite the downturn in property prices generally. The rental income from a HMO in the right area makes this type of property very attractive to investors. If landlords are not certain that they will be able to use a property as an HMO they will not buy the property.
If families don't want to live there and landlords won't take the risk, who will by these properties when they come onto the market? This is bound to have an impact on the value of the property. The horse has already bolted in most student areas and control of the spread of HMOs is about 10 years too late. In my opinion Article 4 Directions will have a very short shelf life and in the meantime those of us who own established HMO's will see an increase in their value because investors will know that they have established use and are therefore a safe investment.
Changes to Housing Benefits rules reduced the amount paid to a single person under the age of 35 years to the rate for a room in a shared house, where previously if they were over 25 years they would have been entitled to claim the self contained home rate.
This change has had a major impact on many landlords who were forced to take a reduction of up to 50% in their rent or evict the tenant because of his inability to pay the full rent. The good news for landlords who let HMO's was that there was a increase in the number of people who wanted to rent a room in the property and many landlords invested in HMO's to meet the increased demand.
An Article 4 Direction is not specifically about student HMO's and where there is a Direction in place landlords will not buy properties to convert into HMO's for any tenant group because they cannot afford to take the risk of being refused planning consent and this has already had a negative impact on the supply of affordable homes. All local authorities are struggling to house the homeless and single people under the age of 35 years are a particularly difficult group for them to house because they simply haven't enough stock of small homes. People on modest incomes are also attracted to HMO's and if they cannot find an affordable home they often cannot take up employment in an area. This in turn will have an impact on businesses and services that depend on staff who are paid a modest wage.
Without investment from private landlords the need for affordable homes will not be met. Landlords are already reducing the homes that they offer to people on benefits because of their concern about the Welfare Reform and the coming of Universal Credit. Any local authority that compounds the problem with the use of an Article 4 Direction is indeed "re-loading, to shoot the other foot". Just how long it will take for the penny to drop remains to be seen.
Please check with your local authority website regularly because they must publish their intention to put an Article 4 Direction in place and carry out a consultation with all interested parties before it begins. You may find it well hidden but it is vital that you respond to the consultation making the point that only private landlords are investing in affordable homes at the moment and if we are prevented from doing so homelessness will increase in their area.
Mary Latham (@landlordtweets)