With house prices steadily creeping north and lending criteria becoming tighter, more people are 'choosing' to move into rented accommodation. When renting out your home privately to this potential pool of tenants, making sure that your property stands out from your "competitors" is key!
As thousands of new properties are added to the market daily, finding tenants is not as simple as it once was. With apps like Zoopla and Rightmove, tenants are overwhelmed with choice and often browse a large selection of properties within minutes. The trick is knowing how to catch their attention with your property before they navigate away...
Timing is critical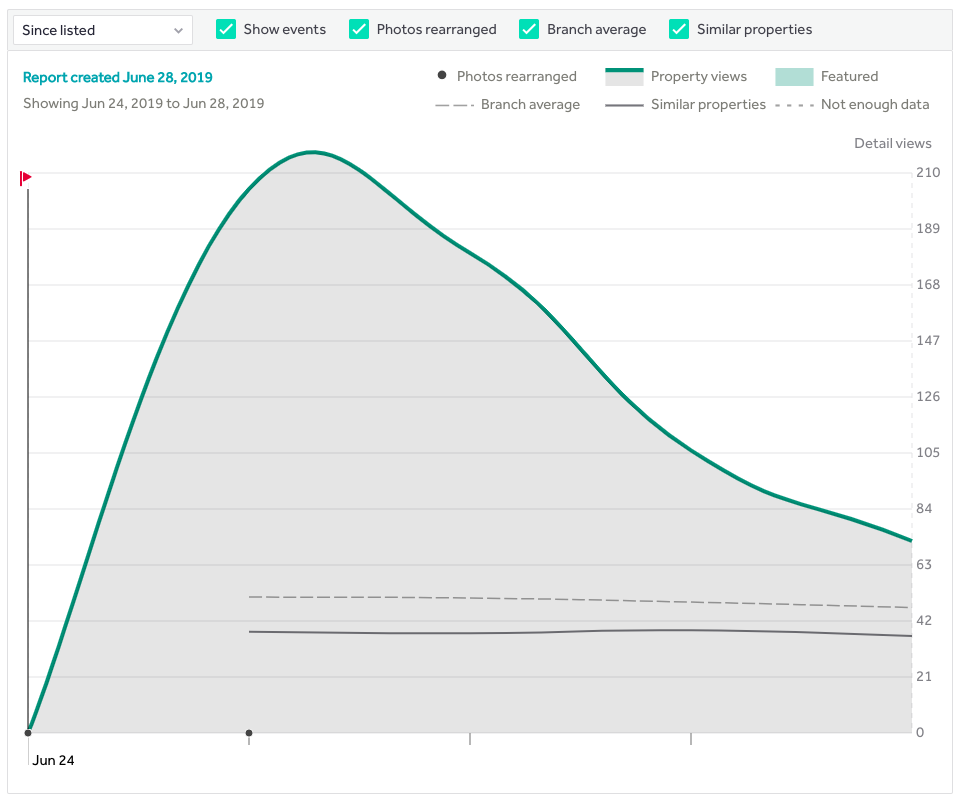 Using data from Rightmove above we see a very typical interest level graph showing the number of 'views online'.
Good quality photos can make all the difference
From our experience we know that the very first thing the prospective tenants will see are the property photos, so if you want to grab tenants' attention, make sure they stand out!
When a property first comes to market it's very common to see an initial spike in interest. When an advert goes live, this is the most ideal time to impress tenants so it is essential that the advert has good quality photos from the outset.
After a few days online, interest levels start to fade which is why we recommend adding new photos and rotating your existing photos often.
Natural lighting
Whether you hire a professional photographer or take photos yourself, correct room lighting is very important. When taking photos, you want to ensure that all lights are turned on, curtains and blinds are open, and that it is daytime. By making the rooms full of natural light, you are reflecting their actual size, as shadows can make a room look smaller.
This also means that prospective tenants can see the rooms in their true beauty, rather than in a dimly lit room which raises suspicion. If the room you are trying to photograph does not have much natural lighting, use electronic lights to light up the room - using the flash on your camera or smartphone is a quick and easy way to do so.
De-clutter your property
Nothing puts prospective tenants off more than what looks to be a lovely property, but you can't really tell through the clutter. A simple decluttering before taking your photos gives the property a new shine and makes it easier for tenants to imagine living there.
You want to make sure the photos match the property as much as possible, and you want people to be amazed when they walk in, not disappointed because of clutter.
Rotate and add new photos
A great way to get more people viewing your property online is to change / rotate the photos every three days or so. By doing so, it will encourage more views and clicks as new photos are always prioritised by tenants over old photos.
Adding photos at different times of the day can also help attract enquiries. For example, if the garden looks wonderful at sunrise, take a photo and add it to your advert.
Photograph everything
If your advert only has two photos, the likelihood is, nobody is going to click on it. When looking for a home, people want as many photos as possible - they want to be able to see as much of the property as they can. So don't neglect taking photos of the garden, or the laundry room, because all of these could mean the difference between renting your property and it sitting empty.
An advert that is missing photos, either of a room mentioned or the front of the property, raises suspicion. Prospective renters will be questioning as to why these photos were not included.
We recommend taking at least 5 photos of the property, including each room, the front exterior and the garden. We recently helped a landlord whose advert had been live for 6 weeks with no takers. After taking a few photos and uploading a new advert, viewings had been lined up within 2 days.
This really does prove the power of professional photography.
Professional property photos
Professional property photos are a good investment for a quick let. A great example is a landlord client of ours who had his advert live for 6 weeks with no viewings at all.
We helped our landlord arrange for a professional photographer, uploaded a new advert including the new images and kept the price the same and even increased the deposit amount. Within 1 day and 23 hours, we had a reference request submitted and another two viewings lined up for the following day.
Take a look at the difference for yourself:
Which of these adverts would peak your interest more?
Does all this actually help when renting out your home privately?
In the graph below we can see how keeping the advert fresh by making changes to photos, price and whether you have a premium listing can positively affect online advert views.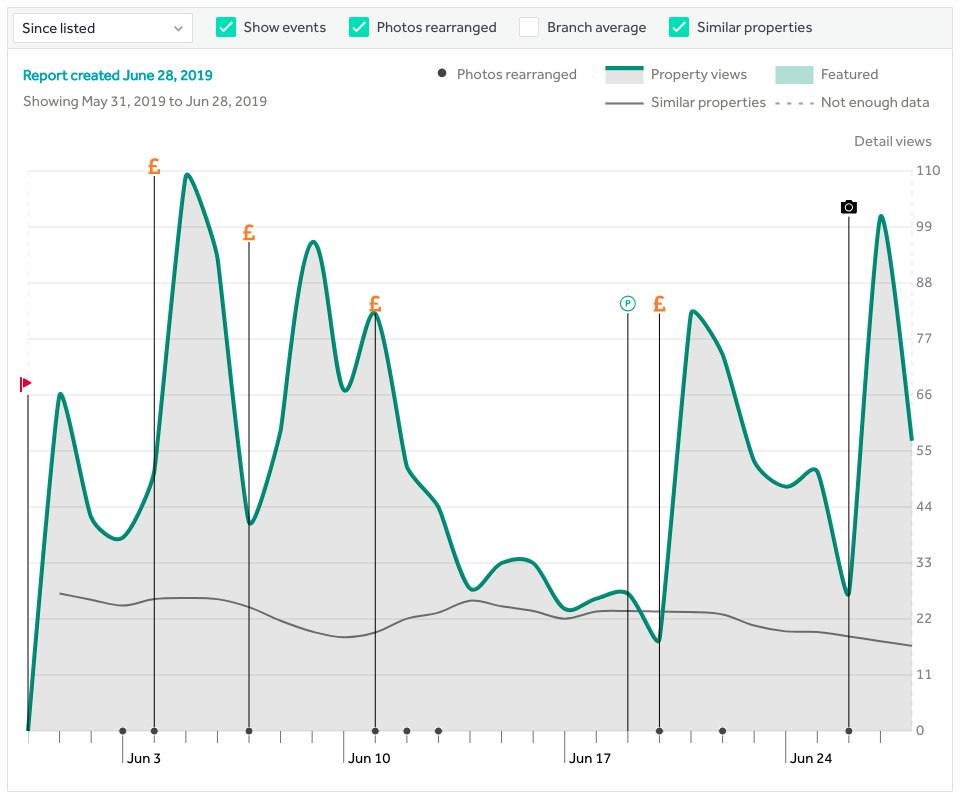 The spikes in this graph occur several times when the price is changed by as little as 2%. Why is this? When prices are adjusted, Rightmove will automatically send out email alerts to registered tenants attracting an instant increase in views.

Another spike next to the P symbol shows the positive effects of a premium listing on Rightmove. We can also see a large spike in the graph next to the camera symbol which shows images have been rearranged on the advert.
If you find your advert is not getting the attention it deserves, try upgrading your advert to a Rightmove or Zoopla premium listing. Four images will be shown of your property, as well as your ad being placed at the top of the search list. This can often prove to be a worthwhile investment, as a premium listing is likely to viewed more often and let much quicker.
If you would like some help with your advert or to get further tips on how to rent out your home privately, give our landlord team a call on 0333 577 8888.