A new scheme being trialled in the West Midlands requires landlords to check the immigration status of prospective tenants before allowing them to sign a tenancy agreement. The scheme is known as 'right to rent' checks, and has started out in Birmingham, Dudley, Sandwell, Walsall and Wolverhampton, with a view to being rolled out across the country throughout this year.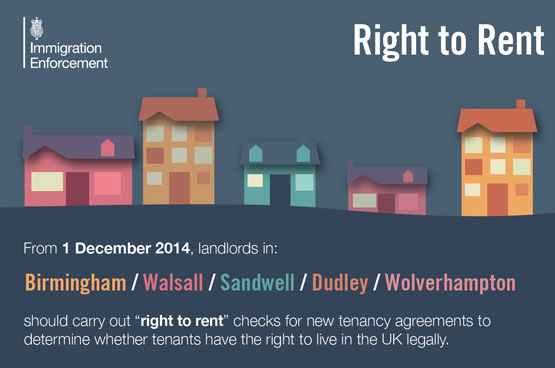 Landlords are expected to ask prospective tenants to see either a passport or a biometric residence permit (which can be obtained from the Home Office) before letting a property. Should a private landlord fail to do this, and an illegal immigrant is later found to be living at one of their properties, they may face a £3,000 fine.
This scheme has apparently been brought in to protect immigrants from unscrupulous landlords, and cut down on inappropriate properties being rented to large groups of those staying in the country illegally. However, there have been criticisms of the move, both from landlords and campaigners, who suggest that the move may lead to discrimination, with landlords only renting to white British people in hopes of avoiding paying extra fees to run the additional checks.
Even if the checks become mandatory, those who are unable to provide a UK or EU passport may still struggle to find somewhere to live, even if they are legitimately entitled to live within the UK. Those who don't have the money to pay for a passport may have difficulty being chosen over tenants with more 'British' names, and those with accents may find themselves rejected out of hand to save landlords time and money.
However, as mentioned in our previous blog post, immigration and securities minister James Brokenshire has insisted that the move is set to protect landlords and immigrants alike, rather than to encourage any form of discrimination. Brokenshire claims that these checks will make it more difficult for those who are not meant to be in the country to stay here illegally, as well as to stop landlords from breaking rules.
Either way, with the checks continuing to be rolled out throughout the year, it will soon become clear whether or not this scheme has had the desired effect on the rental market.