For the most recent generation of renters, the dream of buying a property can seem further away than for previous generations. That's because as property prices rise, some of us just can't commit to the investment which a mortgage requires until later in life.  One stipulation in the process of getting a mortgage is a credit report, but up until now the credit rating of potential mortgage buyers has not factored in rental payments – although going by recent developments, that could be changing.
You can check your credit score with Experian – this is a free service. – Check your free credit score here
There are plenty of Brits who feel that rental payments should be taken into account when applying for a mortgage, and the issue has now made its way to the House of Commons, where it is being debated by Members of Parliament.
An unmistakable groundswell
The grassroots movement to take into account the timely payment, or missed payment, of rent in a renter's credit report for mortgages is taking shape.
This year over 145,000 people signed a petition asking for rental payments to be factored into a credit report. The petition was started by Jamie Pogson, a prospective buyer who struggled to get a mortgage, even though he had paid over £70,000 of rent punctually.
Back in Parliament, we have seen a number of different viewpoints when it comes to the fairness of factoring in mortgage payments, with some MPs strongly backing the change, and others pointing out that there are other elements which demand just as much attention when looking at ways to weigh up mortgage eligibility.
Stephen Barclay, the Economic Secretary to the Treasury, expressed the view that there are benefits to be had for both lenders, and those wishing to buy a home.
He explained: "Lenders and credit reference agencies being able to access data relating to a prospective borrower's history of paying rent will benefit both the borrower and the lender. There are already private sector solutions, some of which we have heard about in the debate. I am keen to look for ways to raise awareness of those, and to look at how we use open banking to open up further possibilities in future."
Another MP, Martin Whitfield of the East Lothian constituency, pointed out that a track record of paying rent on time should not be discounted.
Mr Whitfield said: "The credit reference agencies do not, by and large, take into account rental payments from an individual's credit report, and therein lies the problem. The lack of individual input into that process means that many people with a long history of paying rent on time and in full are unable to take advantage of the financial sense that they have demonstrated, perhaps even over decades."
A global phenomenon
The growing support for such a change is not restricted to the UK.  Over in the United States, there are influential figures who are adding to the number of voices determined to point out the unfairness of punctual rent payments not being taken into account.
One of those people is Scott M Stringer, who holds a lofty position as the Chief Comptroller of New York – essentially the Chief Financial Officer of the world famous city.
Mr Stringer believes that for too long, there has been a discrepancy between payments made by those who rent a home, and those who own a home. This is because while homeowners with a mortgage are given points on their credit report for making their payments on time, those who are renting a property are not.
With a view to helping low-income tenants work their way towards a foot on the housing ladder, according to the New York Times, Mr Stringer advocates the use of opt-in reporting in by property management companies in order to reward tenants for their timely payments.
The publication reported: "Mr Stringer announced a plan to expand efforts to encourage landlords and property management companies to give tenants, especially low-income tenants, the ability to opt into reporting their rent payments as a way to boost their scores.
Looking at a sampling of tenants paying less than $2,000 a month, Mr Stringer's office found that 76 percent of them would see their credit scores improve if their rental payments were included."
Readymade potential to include rental payments in a credit report
If schemes such as the proposed New York initiative are to take off across the globe, then systems which allow for such mutual opt-ins will be crucial.
One of those has already been developed by the Experian credit agency. Partnering with Credit Ladder, they have launched a system named 'Rental Exchange', which is designed to give tenants a chance to contribute to their credit report with punctual payments.
The platform works by inviting private renters to sign up and then pay their rent through the system. Landlords then receive payments the following working day, and each time a successful payment is made, the user's credit reports are updated.
As long as a letting agent or landlord agrees, any private tenant is able to sign up – and the good news is that the basic package is free for both parties. Those registering with Experian Rental Exchange shouldn't expect an 'instant hit' to their credit rating, however, as Experian says it expects there to be a year-long period between the time at which rental payments are made, and when they affect a credit score.
Initially, Rental Exchange is available for the property management companies and bigger landlords – as they must have at least 100 properties to their name. But Experian has confirmed that they are already working towards opening up the system to providers of social housing.
Experian offer a free credit report service – check your report and score today.
Working both ways
One of the major benefits of taking into account rental payments in mortgage eligibility assessments, according to its advocates, is that it won't only support the case of those who do pay on time – it will count against those who don't.
At present, there might be thousands of renters who are in rent arrears, but who are able to get away with it.
And another crucial consideration is that mortgage regulations do not currently disallow rental payments to be considered when assessing eligibility.
So providing both lender and would-be buyer agrees, this is something which could be implemented right now. All that is needed is a reliable system, such as the one devised by Experian.
It might be said that the change would only be a natural extension of current processes. After all, lenders often ask to see previous bank statements, where it can be seen if rent has been paid regularly.
For a such a small addition to the data already considered, such as income and expenses, incorporating rent payment into assessments for rent eligibility could benefit a large number of people, helping them get onto the housing ladder and improving their long-term financial stability.
The recent revelation, in official government figures, that the average rent payment is higher than the average mortgage repayment in the UK suggests that there is a bottleneck of would-be buyers who are trying to get over the hill to purchasing a house of their own.
Unless more steps are taken to support the creditworthiness of punctual rent payers, taking the first step on the housing ladder looks likely to become harder for future generations.
Summary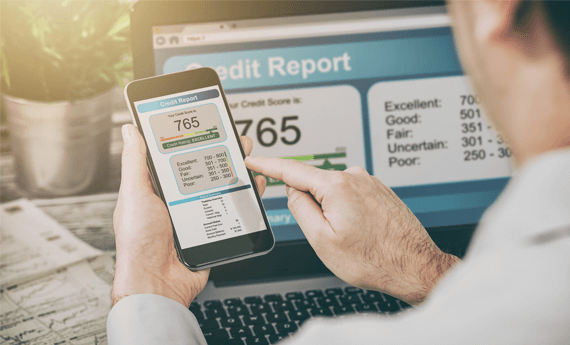 Article Name
Could Paying Rent on Time Improve a Credit Report?
Description
A credit report does not take into consideration rental payment history. When they do, paying rent on time may improve your credit report and score.
Author
Publisher Name
Publisher Logo