The number of people enrolling on college and university courses has almost doubled in the past two decades and the need for good housing has never been greater. Figures suggest that while nearly 500,000 live in halls of residence, around 680,000 students live in private houses of multiple occupation. This is good news if you are a private landlord as it means letting a property to students could provide a steady flow of tenants, often with a much greater return on investment than would be possible through regular lettings.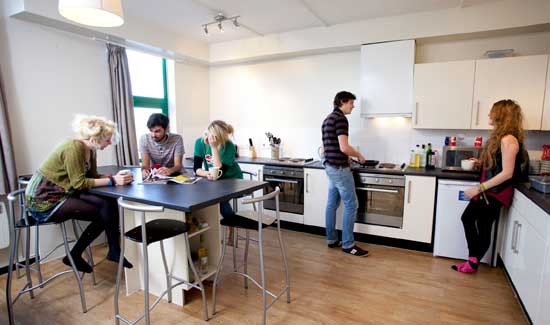 Students do not mind living together and landlords are able to enjoy high yields by charging rent on a per person, per room basis rather than a set monthly sum for the entire property.
What's more, student lets have bucked the economic trend recently with rents rising significantly year-on-year, and they are likely to continue to increase due to demand being greater than current supply.
Things to consider about letting a property to students
Before you jump straight into the student rental market, there are a few things you must take into consideration.
As with letting any property, you must ensure that the home is safe and hazard-free. This includes ensuring that gas and electrical goods are properly installed and maintained. All deposits must also be placed in a Deposit Scheme.
Licensing
A key question that is usually applicable when considering students as tenants is whether or not a HMO licence is required. As a broad rule, the answer is yes, if you have three or more tenants who are not related and share kitchen and bathroom facilities. HMOs are also needed when a let property is both taller than three storeys and home to five or more people. The easiest way to find out whether you will need a licence is by contacting your local authority
Finance
Most banks and building societies offer buy to let mortgage products that they are more than happy for you to use for a student let purchase. However, you will likely find your options restricted if you are related to one of the tenants, as it will be classified as a regulated second mortgage.
Insurance
You should also ensure that you have the correct landlords insurance in place, especially as it may be left unoccupied during the summer months when students are no longer studying. You can expect to pay a higher premium, as student areas are often targeted by burglars and the likelihood of damage is greater.
Location
Another consideration is proximity to campuses. If you are planning to buy in an area that is not within a five mile radius of a university, you are unlikely to receive much demand from students.
The best places to invest in tend to be places with large and famous universities, including Oxford and Cambridge. In cities such as Manchester and Leeds, it pays to carry out thorough research as many districts are unappealing to students while areas such as Fallowfield and Headingley are incredibly popular.
Choosing a letting agent
LettingaProperty.com is an experienced online letting agent that offers clients Rent Guarantee and Legal Expense Insurance on Student Lets and all other Lets so you do not have to worry about missed or unpaid rent payments. Finding students, reference checks, digital tenancy agreements, deposit registration and monthly rent collection is all part of the Gold and Platinum packages.