As a landlord, one of the fundamental responsibilities you have is a duty to provide tenants with a safe home to live in and in this article we want to remind you of the importance of periodic Fixed Wire Testing.
With regards to the legal regulations, it is quite surprising that it is not currently a mandatory requirement for a landlord letting property in England (Scotland have different views on Electrical Safety) to have a current Electrical Installation Condition Report (EICR) certificate in place unless you are letting HMO.
In fact, it isn't even a requirement to have Portable Appliance Test carried out; only a Gas Safety Certificate is required under the current legislation.
But Fixed Wire Testing is extremely important, and since the tragedy of Grenfell tower (which was caused by a faulty refrigerator) there are many campaigners taking action to encourage the Government to impose stricter rules on this issue.
What is Fixed Wire Testing?
An Electrical Installation Condition Report, commonly known as an EICR or Fixed Wiring Test, involves having an qualified expert inspect and test the main wiring system of an electrical installation in a property.
This testing is important as such installations naturally deteriorate with age, and this can lead to serious hazards in any environment. The deterioration is due to factors such as accidental damage, wear and tear, natural corrosion, overuse, and even the impact of environmental influences.
The importance of Fixed Wire Testing in rental properties
It can be very easy to take electricity for granted inside a property; we simply flick a switch and the power activates no matter what we need it for.
But electricity can be extremely dangerous, and our tendency to take it for granted can make it an invisible hazard that we aren't aware of until it's too late. It can cause shocks, severe burns and even death, in addition to the property damage that comes with fires and explosions.
In so many cases, these things happen with no warning beforehand, particularly if the electrical installations in a property go without inspection for a long time.
Fortunately, we can minimise the risk of this happening by keeping up a proper schedule of inspection and testing.
This will help to protect your property, as well as your tenants.
How often should you carry out Fixed Wire Testing?
A full EICR will give you a thorough assessment regarding the condition of the wiring and components installed in your property. It could reveal a number of problems that would need addressing, including overloaded circuits, inept wiring or damaged sockets, and potential fire or shock risks that would otherwise go unnoticed.
For your reference, an EICR should be undertaken at the following intervals:
1. Every 10 years for owner-occupied properties
2. Every 5 years in tenanted properties (or change of tenancy)
3. Every 3 years in industrial premises
4. Every year in hotels and restaurants
To protect your status as a landlord and ensure your investment continues to pay off, as well as fulfilling your obligation to your tenants, it would be wise to keep an up-to-date Fixed Wire Testing practice in place.
It may become a legal requirement in the near future for this kind of testing to be regularly carried out for rental properties, but the responsible landlord shouldn't avoid promoting tenant safety and protecting their investment simply because it isn't legally enforced.
If you haven't already, enquire about an Electrical Installation Condition Report today – you may well find that it prevents a disaster in one of your properties!
Summary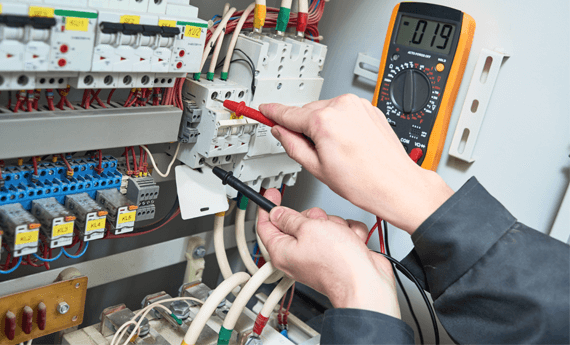 Article Name
Fixed Wire Testing For Rental Properties
Description
Fixed Wire Testing is not currently a legal requirement for landlords renting out residential property in England unless the property is an HMO.
Author
Publisher Name
Publisher Logo