What is the UK's most popular pet?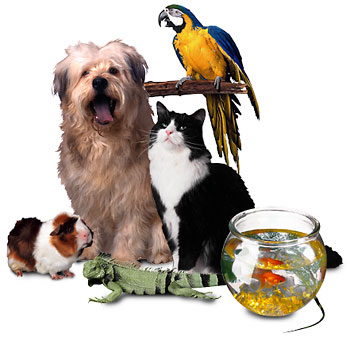 According to the pet food manufacturing association (PFMA), there are currently over 22 million pets in the UK within 46% of UK households.
If your answer to the above question was the Dog, you would be forgiven to learn that you would be wrong!
In fact Fish (over 40 million of them) are swimming around the living rooms and bedrooms of millions of homes within the UK.  Dogs and Cats came in equal 2nd place with around 8 million each squeezing through cat flaps or laying snug in-front of the telly.
Your dog or cat would probably not be too bothered to learn that the most popular place to live in the United Kingdom would be Wales with over 55% of households have either a Dog or Cat.  South West of England came in a close second with 52%.  London is the least likely place your Dog or Cat would bump into someone they may know with only 17% of homes owning one or the other.
All interesting facts but what does this have to do with letting a property?
Well, survey statistics from the last 1,000 properties available for let on lettingaproperty.com shows that 79% of Landlords would prefer Tenants without pets!  These facts are supported by a survey by Dogs Trust indicating that 78% of pet owners expressed difficulties in finding privately rented accommodation that would allow pets.  Furthermore, 54% failed to find a suitable property in the end and sadly 8% of Pet owners had to re-home their pets for failing to find properties at all for their pets.
These facts pose big questions for the UK Landlord.  Firstly, do Landlords consider waiting for a Pet-Free Tenant to move in?  Or would they consider Tenants that meet all of the appropriate referencing and can financially commit to a tenancy but come with a well behaved pet?
It would seem the numbers speak for themselves… with 4 in 10 potential tenants possibly having a dog or cat as a pet and 8 out of 10 Landlords telling us they would prefer a Pet-Free tenant…someone is going to have to give!
What can Landlords do in today's Tenant market to protect their property investment should they decide to give into the thought that a Tenant with a Pet maybe better than not having a tenant at all?
Some tips when qualifying the Pros and Cons of Tenants with Pets could be as follows:
With so few properties allowing for Pets, you could swing this in your favor by promoting pets allowed.
Pet Owners know how hard it is to find properties that allow for pets and will be encouraged to stay longer than those Tenants without.
Responsible Pet Owners often make responsible Tenants.  As above, tenants would not want to jeopardize their tenancy given the short supply of pet friendly homes and as such will take extra care to ensure cleanliness.
Landlords who exclude pet owners from their properties are missing out on a large chunk of the rental market as 46% of the population currently own a pet. By adopting a pet-friendly approach, you can easily increase demand for your property and attract long-term, responsible tenants.
So Landlords…. inform your Online Letting Agent you would consider pets for your property and then take these easy steps before deciding whether or not to go ahead:
Speak to any prospective tenant about their pet before deciding whether to accept them. We all know every pet is different and you should make your decision on a case by case basis.  Meet them both before making the call if you have to.
Ask the Tenant to supply you with a written reference for their pet from a previous Landlord or Veterinarian whenever possible.  No credit check necessary with this one!
If you are concerned about the pet causing damage to the property or furnishing, you can ask for a higher deposit.
If you go ahead and agree to a Tenant keeping a pet in your property, you should include a pet policy clause in your standard tenancy agreement that refers specifically to the keeping of pets.
For Landlords and Tenants wanting to understand more about Letting properties to Tenants with pets, we found the following website, www.dogstrust.org.uk, a useful place for more information.
For those of you still interested the Top 10 UK pets include:
1.    Fish (over 40.0M) Indoor and Outdoor)
2.    Dogs (around 8.0M)
3.    Cats (around 8.0M)
4.    Rabbits (around 1.0M)
5.    Birds (around 1.0M – Indoor)
6.    Domestic Fowl (over 0.5M)
7.    Guinea Pigs (around 1M)
8.    Hamsters (around 0.5M)
9.    Horses/Ponies (around 0.3M)
10.    Tortoises/Turtles (around 0.3M)
About LettingaPropery.com
LettingaProperty.com is an evolutionary Nationwide Online Letting Agent aimed at servicing todays' Private Landlord. Modern technology, our in-depth lettings knowledge and a cost efficient administration infrastructure enables our business to compete aggressively with higher administration costs and a poor service culture stigma offered by conventional High Street Letting Agents. With the exception of conducting viewings, we offer all that a High Street Agency would be expected to do. Our services are National, dependable and supremely efficient. In essence, we provide Private Landlords a cost effective Lettings service without compromise and we promise to save you money, empower you with Industry knowledge and be there to support you when letting a property.