The number of court orders to evict tenants is up 9% in the last year, and look set to rise further.  The number of tenants in severe rental arrears is up by 13%.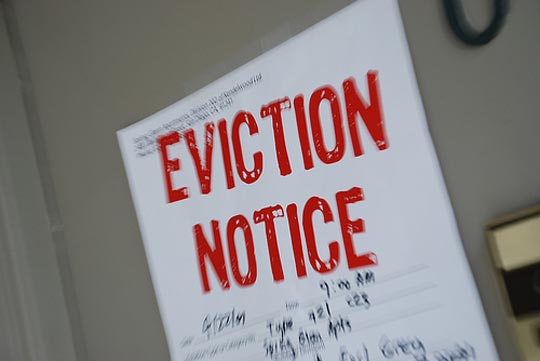 However, the impact of tenants' arrears has yet to filter through to landlords, with total buy-to-let mortgage arrears cases falling by 12% in the last year
According to new research by Templeton LPA, which acts as a receiver of rents for lenders whose landlords have defaulted, the number of tenants in severe financial difficulty has climbed rapidly in the last quarter.
It says there are now nearly 8,700 more tenants over two months in arrears.
Some 74,492 tenants in England and Wales are in severe arrears – a 13% increase compared to the same time last year.
This also represents an increase of 4% compared to 71,483 in the previous quarter.
Nevertheless, tenancies in severe arrears represent just 2.1% of all properties in the private rental sector in England and Wales.
The growth in tenant arrears has been mirrored by a rise in the number of tenants being evicted through court orders.
In the last quarter, 24,170 tenants faced eviction notices – an increase of 9% on the 22,091 a year ago. But the change is not just annual. In Q1 2011, there were 5% more than in the last quarter of 2010.
Paul Jardine, director and receiver at Templeton LPA, said rising rents were helping to fuel the increase in arrears.
He said: "There's no denying that tenant finances have been under mounting pressure in the last six months. Rents have risen consistently in the past year to a record high, and the cost of living is taking its toll.
"This is causing many tenants on lower incomes to fall further and further behind with monthly payments.
"But with demand so strong for rental properties, and rental income providing the lion's share of annual return at present, many landlords are becoming less lenient with arrears, and seeking court orders to remove non-paying tenants before they themselves fall into mortgage arrears."
The increase in tenant arrears and evictions has not yet fed through into buy-to-let mortgage arrears. In the last quarter, the number of buy-to-let mortgages more than three months in arrears actually dropped by 8% compared to the previous quarter. However, at 29,400, there are still nearly three times as many buy-to-let mortgages in severe arrears compared with three years ago."
But Jardine warned:  "The full impact of public sector spending cuts is yet to be felt, and rent rises are unlikely to slow in the immediate future.
"Tenant finances will continue to be placed under pressure, and it is crucial that landlords do not delay in contacting tenants to nip any potential payment problems in the bud as amicably as possible. Otherwise, buy-to-let mortgage arrears will begin to climb as the year progresses."
Jonathan Daines, Co-Founder of lettingaproperty.com comments:
"It is concerning to see that the number of court orders for evictions are on the increase. I would urge landlords to ensure that their tenants are full referenced at the outset of the tenancy. This would usually be in the form of an employment check, a previous landlord check as well as a financial check dating back 6 years. The cost of referencing a tenant would normally be paid by the tenant – this is industry standard."
"Should the tenant pass the referencing process, the landlord may be able to apply for a rent guarantee insurance which would cover the majority of lost rent as well as receiving financial assistance towards legal fees."
To discuss our tenant referencing service, please call and speak to a member of our landlord team on 0330 660 1020.
About LettingaPropery.com
LettingaProperty.com is an evolutionary Nationwide Online Letting Agent aimed at servicing todays' Private Landlord. Modern technology, our in-depth lettings knowledge and a cost efficient administration infrastructure enables our business to compete aggressively with higher administration costs and a poor service culture stigma offered by conventional High Street Letting Agents. With the exception of conducting viewings, we offer all that a High Street Agency would be expected to do. Our services are National, dependable and supremely efficient. In essence, we provide Private Landlords a cost effective Lettings service without compromise and we promise to save you money, empower you with Industry knowledge and be there to support you when letting a property.
Source: LAT